SIMPLE SKETCHBOOKS


The New Abstract Watercolour
Workshop Weekend
If you have enjoyed my Abstract Patterns Workshop
Then you will LOVE this workshop
Use My Colour Story Paintcards
Simple Sketchbooks

@ The Art Garden in Beverley W.A.


Check the workshop calendar for dates
These workshops are being held at Mandy's sculpture gallery called 'The Art Garden' - watch the video to find out more about it
Play with artisinal watercolour paint on beautiful paper -

spend 2 days at the Art Garden exploring 12 different abstract watercolour techniques
.
ART WORKSHOP
4-5 hours daily step by step training
with Mandy


check the workshop calendar

all materials supplied for the day
---> SEE WHAT YOU GET

Price for weekend
$240 aud
PAINT INTO SIMPLE SKETCHBOOKS
Do you love modern abstract watercolour

Would you like to create this carefree beautiful art yourself

The exercises in this workshop are simple and easy - anyone can follow along to create their own version





The Bockingford 300gsm watercolour paper in the sketchbooks supplied are a delight to work on

with enormous choices of colour using hand made artisinal watercolour paint

throughout the weekend we will fill 2 sketchbooks with gorgeous art


And also - 2 NOTEBOOKS FILLED WITH BLANK PAGES


As in all my workshops - we will also work on a couple of notebooks

This is a wonderful new way to take your art home with you at the end of the day

The notebook covers are the same multimedia 225gsm paper we have been using - so you can still frame your art if you want

or you can use your notebooks as a personal and special place to keep your precious notes in, or even give away as a present


Throughout the weekend we will work though a series of 12 unique exercises guarenteed to create satisfying and beautiful work

each exercise is simple and quick painted into the small scale of the sketchbook with a mindful pleasure
Exploring Watercolour and Ink
The paint we use is from the artisanal paint cards - made with harmonious colour stories -

so the pallettes of each page on your sketchbook blend beautifully

Then we explore the experiential quality of adding ink into our work


WHO

IS IT FOR ?

This workshop series is for anyone who enjoys spending a day playing with colour, and artists looking for new techniques to explore

I think it would be fine for a beginner, because the exercises are simple once you get a bit of instruction, and very satisfying

Its a wonderful relaxing weekend away spent with like minded ladies, focusing on art and colour

This workshop is also for people who want to play with heaps of different art supplies
.
WHAT

DO YOU GET ?

You dont have to bring anything - just turn up
The Art Garden in Beverley is ready to go for anything - this place is built to paint with free abandon

If you are like me - then the only thing you have to do is wear clothes that you dont mind getting paint on

I will supply the hand assembed notebooks, a4 size on different coloured paper , that you can play with

and the simple sketchbooks to paint in

We will tape the booklets onto boards I have made

There is space - paints - art - multi media supplies, all the equipment you will need

and you will get a workbook each day Abstract Patterns workshop booklet and a 3 Bowls Workbook to take home with you

and you also get a cup of tea and a glass of wine if you wish
so... you get
a SPECIAL GIFT....Mandys Abstract Patterns workshop booklet




a SPECIAL GIFT....Mandys 3 Bowls workshop booklet




a new Colour Magic paint card




2 large a4 notebooks to paint on


2 watercolour paper simple sketchbooks


the use of fabulous new paintbowls


a drawing board to tape onto supplied


all multi media equipment supplied


all brushes, tape etc. ..anything you need..supplied


gorgeous relaxing surrounds of the Art Garden Gallery in Beverley


as many teas and coffees and biscuits as you want , and a glass of wine at the end of the day


and my tuition for the 2 days


The Booklet
Because this workshop is so new - I havent created the workshop book yet

I am hoping to use these live workshops to help me form better books, and find out what things I need to add that I havent thought of

so .... i thought i would give you the watercolour weekend workshop books instead instead,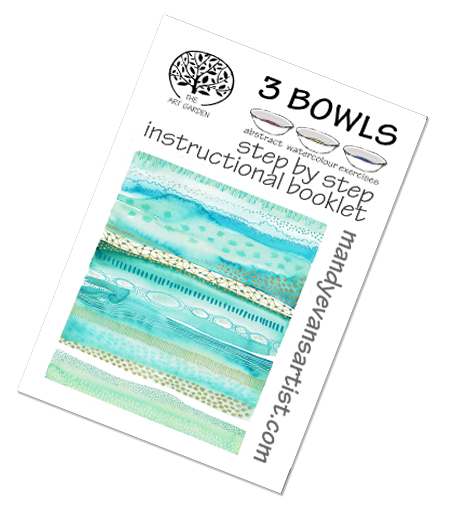 they are very relevant to the weekend - but if you already own both then let me know and we can choose different ones

they are designed for people who might not have all the right supplies and it neatly contains the exercises in one place

It is an excellent "on holiday' experience, being light and easy to pack, and they make fabulous gift
.
WHERE

IS IT ?

THE ART GARDEN GALLERY - 98 VINCENT STREET BEVERLEY

Beverley is a town in the Wheatbelt region of Western Australia, 133 kilometres south-east of the state capital, Perth, between York and Brookton on the Great Southern Highway.

I have lived here for about 7 years now, and I love it

It has just had over 6 million dollars spent on its main street, no traffic, and its very relaxed and laid back -

It's a small population but there are a few galleries in the main street now, with more being built

I think it's because its a great place to make art

You can drive from Beverley to Perth - depending on where you live - in about 90 minutes from Midland on average - and there are plenty of great places to stay overnight
WHEN

IS IT ?



a Saturday & Sunday in September 2023
start painting at 10am
HOW

DOES IT HAPPEN ?
SATURDAY
We start the day going through the new Colour Magic paint card with some simple colour theory and loosening up exercises

then we play with the huge amount of hand made watercolour paint I have created in small bowls

Its awesome fun looking at paint and seeing which colours look beautiful together

Then we paint on the covers of a hand assembled blank notebook,in the gorgeous colour choices we have made, to warm up some more

then have a go in one of the pages in the sketchbook, we do this a few times .... and take time out for lunch

In the afternoon we continue to go through this process of a watching a new technique, practicing on either an envelope or notebook and then, when confident, putting it into your sketchbook

and by then you have dry backgrounds to play with all the multimedia supplies to create your art
SUNDAY
we continue the techniques - and today we add ink into our play

its very experiential and a joy to use - watching the reactions between watercolour and other mediums

and we carefully draw into our sketchbooks with the multi media art supplies....of which there are a lot

and I will surround you with my own examples to give you inspiration about the different ideas and choices you can make in your sketchbook

and create a story of pictures so you have a beautiful work of sketchbook art to take home
These workshops are about simple layers and playing with colour, story, shape, and composition

I spent many years working out the process and would love to share it all here with you in a series of simple steps
EASY STAGES
Before I went completely abstract - I first became absorbed in markmaking

It helped me to loosen up and realise how pleasurable art was without the boundaries of expectation

Every mark is a surprise - and there is no pressure because its a background that you paint over - it is a wonderful feeling

As a controlled artist for over 30 years I felt a rush of the wonder I had experienced as a young artist just learning everything, it was so exciting

Since then I have been breaking more and more boundaries and have immersed myself into abstract art - I LOVE IT
---